KATE LEHMAN
Kate Lehman was born in London in 1968. She was raised in Paris where her parent's pursuits exposed her to the world of the arts. Her formal art education began at age of 15 at L'Academie de la grande chaumiere, L'Academie Roederer and ATEP Lecompte. Dissatisfied with her studies she moved to New York where she worked briefly in the film industry.
In 1994 she discovered traditional academic training at the Minnesota River School where she met Patrick Devonas, a major influence on who she would become as an artist.
Lehman began studying at the Water Street Atelier in Brooklyn under Jacob Collins and Rick Piloco in 1996.
Her work has been shown in Galleries and Museums across the country and in Europe.
She currently lives in New York City and Paris with her husband Travis Schlaht and their two children.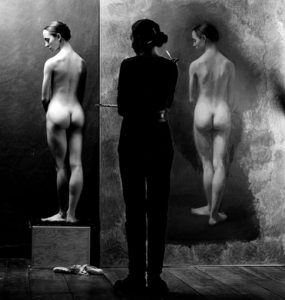 SOLO EXHIBITIONS
2011 - John Pence Gallery
2006 - John Pence Gallery
2006 - Spanierman Gallery
2004 - John Pence Gallery
2001 - John Pence Gallery
2000 - Grenning Gallery
GROUP EXHIBITIONS
2009

John Pence Gallery "Trompe l'Oeil"
2006 - John Pence Gallery "Interiors"
John Pence Gallery "Water Street Atelier"

2005

John Pence Gallery "Paint what you want"

2004

Apex Gallery "Contemporary New York Artist"
Susan Powell Fine Art "Connecticut Rivers and Landscapes"
John pence Gallery: "Allegories"
John Pence Gallery: "Trompe l'Oeil"

2003

Century Gallery "Spring Realism Exhibit"
John Pence Gallery "Exposed"
Susan Powell Fine Art "The Seacoast Near and Far"
John Pence Gallery "Self Portraits"
"Re-presenting representation IV Arnot Art Museum, NY

2002

Arcadia Gallery "New Year, New Talent"
John Pence Gallery "Still Lifes, Florals and Interiors"

2001

Meredith Long & co "Water Street Atelier"
John Pence Gallery "Homage to Artists of the past"
Grenning Gallery

2000

John Pence Gallery "Still Lifes, Florals and Tromp l'oeil"
Grenning Gallery "Sketches of Spain

1999

John Pence Gallery "Tromp l'oeil tradition"
John Pence Gallery "Drawings"
Meredith Long & co "Water street Atelier"
EDUCATION
1996-1999 - Water Street Atelier unde r Jacob Collins and Rick Pilloco, Brooklyn, New York
1995-1996 - Painted with Carlos Madrid, New York, New York
1994-1995 - Minnesota River School under Patrick Devonas, Burnsville, MN
1985-1986 - L'Academie ATEP Lecompte, Paris, France
1984-1985 - L'Academie Roederer, Paris, France
PUBLICATIONS
American Artist Magazine, "Quietness and Power" by John Parks, September 2006, pgs 22-29
Classical Drawing Atelier, A Contemporary Guide to Studio Practice by Juliette Aristedes
Classical Painting Atelier by Juliette Aristedes
Portrait Painting Atelier Old Masters techniques and Contemporary Aplications by Suzanne Brooker 2010
American Art Collector, "Kate Lehman and Sarah Lamb", October 2006
American Arts Quartely, "Kate Lehman and Sarah Lamb", Spring 2006, pgs 61-63
American Artist Magazine, "Emerging Artist", May 2000, pgs 74-76
---